In honor of our 25th anniversary, Zero Breast Cancer is proud to present a series of webinars featuring researchers and community members that we have worked with in our mission to reduce the risk of breast cancer and disease recurrence, and to improve health and wellness for all. Since our early days of trying to figure out what causes breast cancer, ZBC has focused on those of us with higher risk and fewer resources. Please join us to look at what we can do together to reduce the risk of breast cancer through social and environmental justice.
1. Bridging Researchers and Impacted Communities for Health Equity in Breast Cancer
January 28, 2021
By engaging people from communities impacted by breast cancer, research can be more relevant and have greater influence. Community members, including patients and caregivers, provide unique perspectives on their needs and priorities, and can help to translate and apply research findings.
ZBC has been facilitating community involvement in research throughout its 25 years. Join us to learn how cancer advocates and scientists are partnering to improve equity in prevention, treatment and quality of life, and how you can participate.
Featuring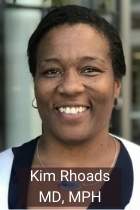 Kim Rhoads, MD, MPH, is Associate Director of Community Engagement for the UCSF Helen Diller Family Comprehensive Cancer Center (HDFCCC) and an Associate Professor of Epidemiology and Biostatistics at University of California, San Francisco (UCSF). She holds a Master's degree in Public Health from the Harvard T.H. Chan School of Public Health where she studied healthcare policy and management with an emphasis on minority health disparities and leadership. Dr. Rhoads founded the Stanford Cancer Institute Community Partnership Program (now called Community Outreach and Engagement). She earned her MD from UCSF School of Medicine and a MS in Health and Medical Sciences from UC Berkeley. Although she no longer practices clinically, she is double boarded in general and colorectal surgery.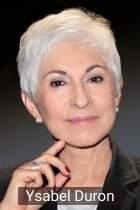 Ysabel Duron is a pioneering, award-winning Latina journalist, a cancer survivor, and for the last 20 years, one of the nation's leading authorities in Latinx/Hispanic cancer education and advocacy. As a TV news anchor, she covered her own cancer battle on air. In 2003, she founded Latinas Contra Cancer, a nonprofit organization advocating for and serving the Latino community. Ms. Duron founded The Latino Cancer Institute (TLCI) in 2017, creating a nationwide network to develop and share best practice programs, increase global cancer research collaboration, and drive policy to solve the issues and burden of Latinx/Hispanic cancer. She serves as a patient/community advocate on multiple California and national boards, including NIH's All of Us Study, and at multiple universities.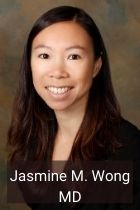 Jasmine M. Wong, MD, is a breast cancer surgeon at the Carol Franc Buck Breast Care Center in the UCSF HDFCCC and San Francisco General Hospital. She supports the WISDOM Study (Women Informed to Screen Depending On Measures of risk), a multicenter clinical trial that came about after years of stakeholder engagement (including advocates) to determine the best approach to breast cancer screening. Dr. Wong received her undergraduate degree from Washington University in St. Louis and her medical degree from the St. Louis University School of Medicine. After her general surgery residency at Loma Linda University, she completed a fellowship in breast surgical oncology at UCSF before joining the faculty. Her research interests include ductal carcinoma in situ (DCIS) and the immune system.
Moderator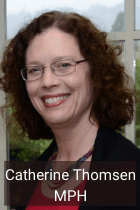 Catherine Thomsen, MPH, joined Zero Breast Cancer in 2014 to promote health and wellness and prevent cancer, after seven years facilitating efforts to engage advocates in cancer research and to fund studies of disparities and environmental risk factors with the California Breast Cancer Research Program (CBCRP). Previously, she was the epidemiologist for the State of Oregon's environmental and occupational health programs and coordinated an interagency pesticide poisoning prevention program. She received her Master's in Public Health from Portland State/Oregon Health & Sciences Universities and her BA in international relations from Pomona College. She studied in France and spent more than three years in rural and urban Costa Rica with the Peace Corps and USAID.
2. Addressing the Role of Our Social and Built Environments in Breast Cancer
When: April 2021, date TBD
Featuring: Scarlett Gomez, PhD, MPH, of UC San Francisco (additional speakers to be announced)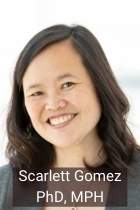 Some of us are at higher risk for breast cancer or for worse outcomes based on where we live and other social determinants of health. These are some of the most basic sources of inequities that negatively affect the health of people with lower incomes and Black, Indigenous and People of Color (BIPOC). Join us to learn how our social and built environments influence our health and what we can do about it.
3. Culture, Language and Addressing Inequities in Breast Cancer
When: August 2021, date TBD
Featuring: Anna Nápoles, PhD, MPH, of the National Institute on Minority Health and Disparities (additional speakers to be announced)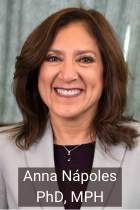 Our culture and ability to communicate in English impact our perception of and access to healthcare and other resources in the U.S. These factors affect cancer prevention, screening, treatment and outcomes, including survivors' quality of life. Join us as we learn about ways ZBC and others work to engage culturally diverse communities to improve health and wellness.
4. Environmental Justice for Breast Cancer Prevention
When: Fall 2021
Featuring: To be announced
BIPOC and people with lower incomes are much more likely to live, learn and work in areas with toxic chemicals that harm our health and increase breast cancer risk. Environmental justice is an essential part of health equity and breast cancer prevention. Join us to learn about how some communities are disproportionately impacted by these exposures and how we can work together to reduce toxins and breast cancer risk.