Thriving and Breast Cancer: What we've learned from the Pathways study - Register here
Monday, February 6, 2023
12:00-1:30 pm PT / 3-4:30 pm ET
Please join Zero Breast Cancer and Kaiser Permanente Division of Research for an hour of experts presenting their findings about diet, nutrition and Vitamin D after a breast cancer diagnosis, followed by 30 minutes of discussion, including answering your questions.
Larry Kushi, ScD (Kaiser Permanente Northern California Division of Research), Principal Investigator of the Pathways Study, will give an overview of the first 18-years of this ongoing research of breast cancer survivorship. Dr. Kushi will be joined by Isaac Ergas, PhD, to summarize what the study has shown about the best diet and nutrition for survivors, and Dr. Song Yao, PhD (Roswell Park Comprehensive Cancer Center), will present his intriguing findings on Vitamin D levels and supplementation.
Zero Breast Cancer's Catherine Thomsen, MPH, will host the Forum and lead the Q&A with the researchers and the Pathways Study participants and others who serve on the Pathways Community Advisory Board. This meeting is for anyone interested, including:
• People diagnosed with breast cancer, including metastatic disease
• Those who care for or know someone diagnosed with breast cancer
• Healthcare providers and social workers serving people with cancer
• Public health professionals and researchers
Featuring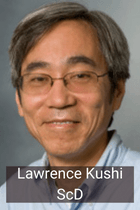 Lawrence Kushi, ScD, is the Director of Scientific Policy at the Kaiser Permanente Northern California Division of Research. He is a nutritional and cancer epidemiologist whose research focuses on lifestyle and other factors in cancer survivorship, prognosis and outcomes. He leads the Pathways Study, a prospective cohort study of women diagnosed with breast cancer, begun as an investigator-initiated research grant and now supported through the NCI's cancer epidemiology cohort infrastructure program. In addition to Pathways and related research, Dr. Kushi leads projects in outcomes of ovarian cancer and adolescent and young adult cancers, and is a co-investigator on other research projects. He also led the NCI-supported Cancer Research Network. A graduate of Amherst College and the Harvard School of Public Health, Dr. Kushi was at the Fred Hutchinson Cancer Research Center, the University of Minnesota and was the Vahlteich Professor of Human Nutrition at Columbia University.
Isaac Ergas, Ph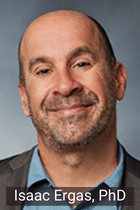 D, is a Staff Scientist at the Kaiser Permanente Northern California Division of Research. His research explores dietary, lifestyle, and behavioral risk factors for breast and bladder cancer, investigating how nutrients, food, and overall dietary pattern levels influence the mechanisms that impact cancer progression and survival. Dr. Ergas earned his PhD in Epidemiology from the University of California, Berkeley. His dissertation examined the role of diet in breast cancer survivorship in participants of the Pathways Study, a longitudinal prospective cohort of women diagnosed with invasive breast cancer between 2005 and 2013. He also holds a Masters of Public Health from the University of California, Berkeley. He previously earned a Masters of Fine Arts in Film and Television Production at the University of Southern California.
Son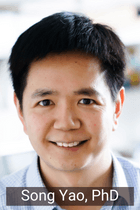 g Yao, PhD, is a Professor in the Department of Cancer Prevention and Control at Roswell Park Comprehensive Cancer Center and the Director of Molecular Epidemiology for CCSG Population Sciences Program at Roswell Park in Buffalo, New York. His primary research area is in molecular and genetic cancer epidemiology, with a special focus on molecular, genomic and immunological characterization in racial/ethnic minority populations to understand how they contribute to cancer disparities in a biopsychosocial theoretical framework with multi-level factors from genetics, society, environment, and healthcare systems. Dr. Yao heads or collaborates on many federal grants; he leads molecular and genomic research on several large population-based studies, including the Women's Circle of Health Study, the New York Breast Cancer Study, the Pathways Study, and the DiRECT Cohort.
Moderator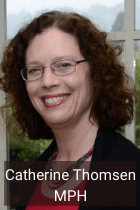 Catherine Thomsen, MPH, joined Zero Breast Cancer in 2014 to promote health and wellness and prevent cancer, after seven years facilitating efforts to engage advocates in cancer research and to fund studies of disparities and environmental risk factors with the California Breast Cancer Research Program (CBCRP). Previously, she was the epidemiologist for the State of Oregon's environmental and occupational health programs and coordinated an interagency pesticide poisoning prevention program. She received her Master's in Public Health from Portland State/Oregon Health & Sciences Universities and her BA in international relations from Pomona College. She studied in France and spent more than three years in rural and urban Costa Rica with the Peace Corps and USAID.