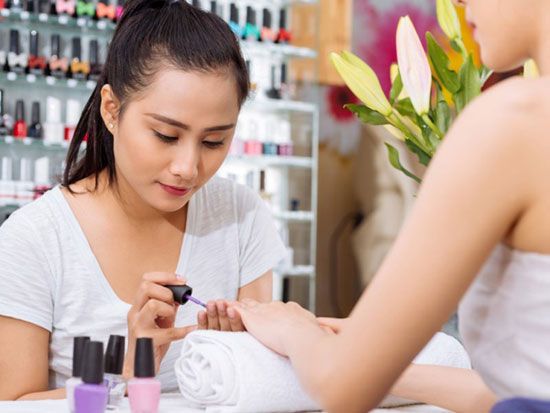 Big news: More Californians should be able to find local, healthy nail salons thanks to AB 2125 which Governor Brown signed into law 9/27/16. It establishes a statewide program for Healthy Nail Salon Recognition (HNSR), setting standards to reduce exposure to toxic chemicals for workers and for customers.
Some chemicals used in nail salons are linked to reproductive and developmental problems, asthma and cancer. Human hormones can be affected and people are especially vulnerable when their body's hormones are most active, as during pregnancy and puberty. The mostly women workers who handle these products for many hours every day are at particular risk.
Under the new law, the California Department of Public Health will help city and county governments implement HNSR programs, with guidelines and consumer education. Such voluntary HNSRPs are already available in San Francisco, Alameda, San Mateo and Santa Clara counties and the city of Santa Monica, due to the efforts of the California Healthy Nail Salon Collaborative.
Do you have your nails done professionally? Reduce your exposure to harmful chemicals by finding a recognized Healthy Nail Salon or ask your salon if they will be joining the city or county HNSR program. Where the program isn't yet established, you and your nail salon owner can get more information from the California Healthy Nail Salon Collaborative at www.cahealthynailsalons.org.
In the salon or at home: Avoid nail polish with dibutyl phthalate, formaldehyde or toluene (aka the Toxic Trio) and avoid removers with ethyl or butyl acetate.
Photo from: http://hellogiggles.com/nail-salon-workers-victory-new-york-2/