October 2018 Newsletter
From the Director's Desk - A thoughtful Pinktober!
Dear Reader,
Knowledge is power
Two decades ago you may have been one of those people who experienced a severe dearth of resources and materials about breast cancer for the newly diagnosed, for your families or for your community members. From its earliest days Zero Breast Cancer (formerly Marin Breast Cancer Watch) published hard copy newsletters in order to share information about the field of breast cancer, including environmental hazards, population studies and related research, medical breakthroughs, changing recommendations for prevention and improving outcomes for survivors. We have a complete archive of copies in PDF if you ever wish to access them. We also post all our digital newsletters on our website so you can always check back there if you think you have missed one.
In 2018 you have probably realized there is no shortage of resources. Quite the opposite. There is a veritable deluge of information and the challenge now is to cut through the noise and find the signals. Zero Breast Cancer has a jealously guarded reputation for sharing evidence-based information and for avoiding jumping onto band-wagons and blindly following fads and fashion. This is one of the most useful ways we can serve you and your community.
In that spirit we created a regular series of book reviews that is intended to support your search for reading material. Our approach is to summarize books in such a way that you can quickly determine the relevance and usefulness of a book for your needs. We are selective in choosing what to review to provide a good cross section of resources to help educate you on related topics, explain this disease to you, inspire you and comfort you as needed. If you have a book you have found really helpful and would like to share your review with the ZBC community please contact us here.
The deepest well of resources now resides online and it seemed helpful to share with you the websites that Zero Breast Cancer deems reliable, credible, evidence-based and that explain terminology well and avoid jargon. The four we have blogged about so far are;1) a comprehensive breast cancer encyclopedia, 2) a thorough and well maintained resource on inherited breast cancer risk, 3) a broad and comprehensive source of information about safe chemicals for our homes and personal care use and 4) the latest scientific findings on the relationship between environmental exposures and breast cancer.
I have long wanted to recommend blogs as another source of digital content about breast cancer that might be useful for you or people that you know. That is somewhat of a Herculean task as blogs are probably the most ubiquitous category of online content about this disease. I recently read a blog that was itself a review of several blogs, written from the perspective of the provocative question of whether there was any place in the cancer experience for humor? I felt that the quality of the blog was such that it was worth sharing. When I wrote seeking permission to do so I received a gracious reply that was very complimentary about the ZBC website so that felt gratifying! Please see the second from last segment of this newsletter for more about this particular blog review. Please also follow our blog and if you would like to suggest topics or help with reviews please contact us here.
Long Term Partnerships Matter
A long standing partnership with the Safeway Foundation of Northern California, dating back to 2005, has provided significant support for Zero Breast Cancer's information sharing initiatives over many years totaling $146,000.00 to date! This money is raised from donations by Northern California Safeway Customers like you! In 2018/19 the Safeway Foundation's contribution will help to grow and expand the dissemination of two multi-lingual campaigns that educate and empower girls and women to reduce their risk of breast cancer and encourage them to pursue individual and community actions. An urgent priority is undeserved communities who face persistent health and health care disparities.
All ZBC materials are freely available online and have been mobile optimized. Research has shown that many low-income groups in particular access the web through smart phones rather than desktops. Social media helps to reach people about these campaigns but so does working with community based organizations.
Previous Safeway Foundation funding helped support the translation and adaptation of ZBC's Girls New Puberty (including videos and an interactive, mobile-optimized microsite) in English, Spanish and Chinese and 13 Ways to Reduce Your Risk of Breast Cancer in English and Spanish. Please contact us if you would like hard copies of materials for your community.
Thank you Safeway customers and the Safeway Foundation!
Annual Community and Business Partner Events Help Raise Awareness Too
Shout-out to the International Association of Firefighters (IAFF) 1775 and Lappert's Ice Cream, The Mercantile at Cavallo Point, and The Tam High School District Health and Wellness Program for partnering with ZBC to raise awareness about breast cancer risk reduction.
I am also delighted to say that the Pink Patch Project, now in its third year, continues to grow. If you live in Marin and you noticed your local law enforcement personnel wearing pink patches for the the month of October then know that they also sell these patches and support Zero Breast Cancer from the proceeds. Visit the Facebook Page of the Fairfax Officers Association and follow the fun adventures of their unique Pink Patch as it travels the world.
Pictured; Rose Barlow with Fairfax Police Chief, Christopher Morin, and members of the Police Officers Association, including FPOA President William Cade (presenting
the check) and FPOA Pink Patch Coordinator Guy Crow (white shirt).
A Call to Action
I would like to close out this (2018) Breast Cancer Awareness Month newsletter with the stirring words of Dr. Natalya Lvoff, MD, Director of the Breast Health Center at Marin General Hospital, at the start of the recent 16th Annual Dipsea Hike for Zero Breast Cancer. Please click on the image to run this short video.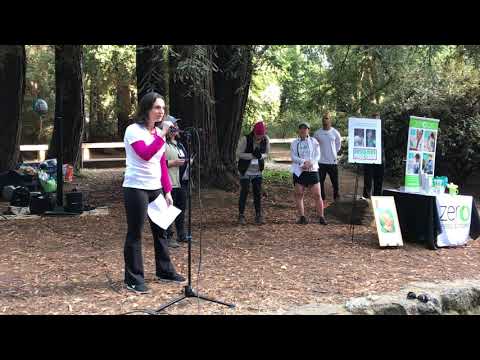 Pictured: Dr. Natalya Lvoff, MD, Rose Barlow (partially blocked), and ZBC Board Members Judy Wetterer, Melissa Felder and JT Peterson
Thank you all for joining us in "pinking" thoughtfully during October 2018!
Wishing you good health,
Rose Barlow
Executive Director
PS Please consider making a gift today in memory of, or in honor of, a loved one who was impacted by breast cancer or make a gift in support of the vision of a world with zero breast cancer.
PPS When you shop at Sports Basement, Mill Valley Market and Beautycounter you can help support Zero Breast Cancer. You can see details about these partners here (scroll to the very bottom of the page).
Breast Cancer Survivorship Navigation Project
Announcing the release of the Patient Engagement Survey Report
Pictured: Catherine Thomsen, MPH (closest to monitor on the left hand side) and members of the original steering committee at their launch meeting in 2015.
In 2015, we received pilot funding from the Patient Centered Outcomes Research Initiative (PCORI) to convene a committee to explore how researchers and clinicians have been using survivorship care plans (SCPs), to determine our communities' questions and concerns, and ensure that patients' priorities are addressed in the content and process. We formed the Breast Cancer Survivorship Navigation Project (BCSNP) to understand and address the needs and gaps experienced by people from under-served groups who had breast cancer. The BCSNP is composed of patients, community service providers, patient navigators and clinical care providers from around the San Francisco Bay Area.
Through in-person meetings and work between gatherings, we have determined that breast cancer "survivors" with low incomes and/or other barriers to access will be the target for our group to develop research questions, explore research approaches and further develop our collaboration. Following the success of the PCORI Stage 1 funding, ZBC's Program Director, Catherine Thomsen, took a lead in the efforts to secure PCORI Stage 2 and subsequently PCORI Stage 3 funding. You can read more about this work here and you can read the full report here.
Zero Breast Cancer takes its message on the road in October!
Teens take the topic of breast cancer risk reduction seriously!
Pictured; Students from Redwood High School, Marin County and ZBC Program Director Lianna Hartmour
"Hello Rose,
Thank YOU so much for all your work in making this event happen. You are all so organized and the students seem to love the activities!! Can't wait to have you back next year. Thank you for all you do to raise awareness around Breast Cancer.
Warmly,
Hannah Wright | MEd, MSW, PPSC
Wellness Coordinator, Tamalpais High School"
This month Zero Breast Cancer shared breast cancer risk reduction information and engaged in conversations with teens and adults in multiple North Bay locations as will as at the Peninsular Jewish Community Center in Foster City.
four schools,
one employer health and wellness fair
two community breast cancer awareness events
two partner fundraiser events
If you missed us during October you can also find us at the 26th Annual Latino Health Forum at Sonoma State University on November 1st.
Blog Review: #1
5 Amazing Bloggers Telling Their Personal and Amusing Stories About Cancer
"Is it okay to laugh at cancer? Yes. Is there such a thing as an amusing cancer blog? We think so!
For autumn 2018 we've put together a list of five bloggers we are reading now who talk about their experiences with cancer in unusual, sometimes educational, mostly amusing, entirely personal ways. If you're looking for that feeling of "I just can't stop scrolling," you've come to the right place."
ZBC thanks URevolution for permission to republish this blog.
You can read the full piece here and find all the links to all the blogs that are reviewed in this piece. The very first one on the list - Stupid Dumb Breast Cancer - is one ZBC's ED, Rose Barlow, has been following on social media for some time and she is a firm fan! It's real and gritty, honest and unflinching about the harsh realities of breast cancer. Nothing pink-washed about it!
VOLUNTEER SPOTLIGHT : Mother Daughter Team Loebbaka!
Pictured: Karen and Maddie Loebbaka
Mother/daughter team Karen and Maddie Loebbaka have been volunteering for Zero Breast Cancer's Annual Dipsea Hike for 5 years—starting when Maddie was 11! Karen heard about the hike 6 years ago from a friend who is a breast cancer survivor and participated as a hiker the first year she was involved. Then, she and Maddie got interested in volunteering through the National Charity League, a nonprofit that promotes the benefits of mothers and daughters doing volunteer service together. If you've recently participated in the hike, you likely met them at the registration table, which they are well-experienced at running. Thank you Karen and Maddie! You can read more here.
ZBC promotes breast cancer risk-reduction through translation of scientific
research and evidence-based recommendations that support
health and wellness at key stages of life.
We envision a world with zero breast cancer!