For 16 years Zero Breast Cancer held an Annual Dinner & Awards Ceremony called "Honor Thy Healer". In 2016 we updated the event name, look, feel and purpose. The award categories and the stories told by, and about, our previous awardees are resources available to Educate, Inspire and Move our community.
Our most recent event was May 10th, 2016 from 6 – 9 p.m. at the Mill Valley Community Center, Mill Valley CA.
* We were thrilled that KGO's Cheryl Jennings joined us again as our emcee.
* The keynote speaker, Louise Greenspan, M.D, co-author of the book "The New Puberty", reprised her recent TEDMED talk.
* We enjoyed a Yotam Ottolenghi inspired family style meal prepared by the outstanding team at Insalata's Catering.
Our 2016 Event Goals Are
Reflect on ZBC's coming of age
Founded 21 years ago we reflected back on our founders, research partners and healing professionals who have helped us better understand the complex constellations of diseases called breast cancer and the role that focusing on health and wellness plays in prevention.
Special Honoree Fern Orenstein for 20 years of service on our Board of Directors.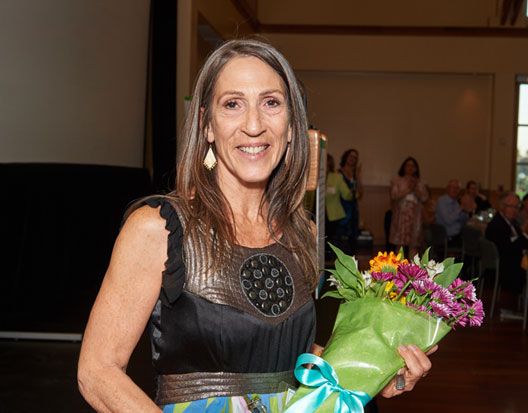 Recognize members of the next generation who are making a difference and share their stories
Healing Partners - the middle and high school teen volunteers of The Ceres Community Project who cook fresh, organic, healthy meals for breast (and other) cancer patients and their families under the supervision of expert nutritionists and chefs.
Hal Brown Shining Stars - 20-somethings, JT and Jake Petersen, together with Marcus Hall, founders of Ripped Body Fitness work with women of all ages (including breast cancer survivors) and underserved youth in Marin City. In 2015 they adopted ZBC as one of their major philanthropic beneficiaries (Dipsea Hike 2015 major sponsor, biggest team and most fundraising).
Francine Levien Activists – High school senior, Maddie Stoops, and the Tam High Breast Cancer Awareness Club. Maddie has led the club for all four years she has attended Tam High in Marin County and this year she is also student body president. Last fall 45 club members, teen boys and girls, met with the ZBC Executive Director one lunch time for the latest update on research findings. The club is planning two fundraisers, and more awareness, about breast cancer prevention before the end of the school year.
Fundraising to support future-facing breast cancer prevention education and outreach campaigns
Become a sponsor, donate raffle tickets, purchase raffle tickets, donate wine, attend the event or make a donation in honor of an awardee or in memory of a loved one.
For more information about sponsorship opportunities, please email This email address is being protected from spambots. You need JavaScript enabled to view it..