BARBARA A. COHN, PHD
Director, Child Health and Development Studies
Public Health Institute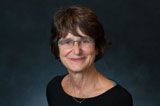 Barbara A. Cohn is an epidemiologist who earned her PhD at the University of California, Berkeley in 1984. She became Director of the Child Health and Development Studies in 2001. The Child Health and Development Studies, or CHDS, is a multi-generational cohort that enrolled 15,000 pregnant women, their partners and their infants from 1959 to 1967. The CHDS is currently a project of the Public Health Institute. The CHDS families have been followed for 56 years and are the only resource for investigating how exposures in the womb, a critical period of vulnerability, might impact cancer risk in three generations. Dr. Cohn studies the health effects of exposures to environmental chemicals and also studies how pregnancy affects the health of mothers. Her work on breast cancer and the environment includes one of the only studies to consider the significance of young age at exposure on the relation of DDT exposure to breast cancer, based on the breast cancer experience of CHDS mothers. Currently Dr. Cohn is investigating whether exposures to environmental chemicals in the womb may affect the breast density of daughters and their lifetime risk of breast cancer.
Dr. Cohn has also initiated the very first Participant Advisory Council (PAC), where cohort members have been recruited and developed as full Community-Based Participatory Research partners. In collaboration with the CHDS PAC lead by Laurie Havas (a CHDS daughter), Dr. Julia Brody of Silent Spring Institute, and Dr. Marj Plumb of Plumbline Consulting, Dr. Cohn's team has developed a unique study to evaluate the impact of reporting personal levels of environmental chemicals on participants' knowledge, personal action and community action regarding environmental health. She and her research partners are working to advance from research "on" to research "with" study participants as a new model of health research, supported by the California Breast Cancer Research Program and the National Institute of Environmental Health Science.
Zero Breast Cancer has served on Dr. Cohn's external advisory board and has collaborated with her through the multi-year NCI-NIEHS Breast Cancer and the Environment Research Program. We salute her partnership approach with community research participants!