Over 14 million people living in the United States have a history of cancer and more than 3 million of them (41% of the women) have "survived" an invasive breast cancer. Health care providers don't always know if a cancer has been completely eradicated or if it will recur and treatment often causes physical and pyschological side effects, including fear of recurrence. Given this burden, a key focus area for us is prevention of breast cancer recurrence and promoting the best possible quality of life following active treatment.
Exploring Breast Cancer Survivorship Care Plan Options
In 2015, we received pilot funding from the Patient Centered Outcomes Research Initiative (PCORI) to convene a committee to explore how researchers and clinicians have been using survivorship care plans (SCPs), to determine our communities' questions and concerns, and ensure that patients' priorities are addressed in the content and process. Our committee is composed of patients, community service providers, patient navigators and clinical care providers from around the San Francisco Bay Area.
Through in-person meetings and work between gatherings, we have determined that breast cancer "survivors" with low incomes and/or other barriers to access will be the target for our group to develop research questions, explore research approaches and further develop our collaboration. We hope to be awarded a follow-up contract to further develop our ideas and eventually lead to a research project that will inform SCP practices. Some of our collaborators have been involved in previous research on this topic and the creation of critical documents. Check out our Resources section for further information.
Pathways: A Study of Breast Cancer Survivorship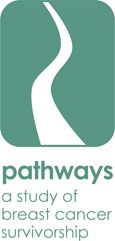 ZBC has partnered with Dr. Larry Kushi at the Kaiser Permanente Northern California Division of Research for more than a decade. The Pathways Study seeks "to provide more objective information to help guide women as they make decisions following a breast cancer diagnosis by collecting and analyzing data about a woman's genetic background, tumor characteristics and lifestyle choices immediately after diagnosis. It also studies various genetic factors and their role in treatment and survival as well as whether certain molecular changes in the tumor may be markers for prognosis.
Learn more about the PATHWAYS study.