Zero Breast Cancer is an established leader in engaging in breast cancer research and has redefined the way community organizations can participate in scientific studies. With a commitment to look at potential environmental causes of breast cancer, Zero Breast Cancer has created a unique and effective approach to breast cancer research.
Zero Breast Cancer has a simple belief: the people who live in a particular community can be invaluable contributors to the research process. That is why Zero Breast Cancer created an innovative way to conduct breast cancer research:
LISTEN > PARTNER > RESEARCH > COMMUNICATE > ACTION
We LISTEN to the concerns of our community and women with breast cancer, then PARTNER with scientists and researchers from established institutions to conduct original breast cancer RESEARCH. Once scientific research is completed, we COMMUNICATE the findings back to the community to help prompt ACTION—the knowledge gained is used to inform personal decision making & impact clinical care and public policy.
Zero Breast Cancer has collaborated with scientific researchers from the University of California, San Francisco; Lawrence Berkeley Laboratories; Kaiser Permanente; the Marin County Health Department, and many other partners to conduct breast cancer research in Marin, the greater Bay Area, and nationally.
Projects
The Breast Cancer and the Environment Research Program
The Breast Cancer and the Environment Research Program (BCERP), a joint effort co-funded by the National Institute of Environmental Health Sciences (NIEHS) and the National Cancer Institute (NCI), is the next phase of a program that began with the Breast Cancer and the Environment Research Centers (BCERC) in 2003. The BCERP supports a multidisciplinary network of scientists, clinicians, and community partners to examine the effects of environmental exposures that may predispose a woman to breast cancer throughout her life. The network engages both laboratory and population-based research to study puberty and other "windows of susceptibility" or specific time periods when the developing breast may be more vulnerable to environmental exposures.
The program has three parallel efforts: the Puberty Study, an ongoing multi-site epidemiologic cohort study with more than 1200 young girls that is looking at determinants of pubertal maturation; the Windows of Susceptibility studies, (laboratory and epidemiological) addressing environmental influences on breast cancer risk throughout the lifespan; and a Coordinating Center with responsibility for organization and communications for the BCERP, and serving as a central repository and clearinghouse for cross-site data in the Puberty studies.
Zero Breast Cancer serves as the Community Outreach and Translation Core (COTC) and Community Partner for both the Puberty Study as well as the Windows of Susceptibility Study in the San Francisco Bay Area. The overall goal of the (COTC) is to provide opportunities for community members, breast cancer and environmental advocates, public professionals and policy makers to increase their understanding of the center's research studies, the research process, and the role environmental stressors play in the development of breast cancer and for researchers to increase their understanding about community, environmental, and health issues related to breast cancer.
Learn more about the Breast Cancer and the Environment Research Program at: http://www.bcerp.org/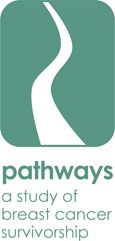 PATHWAYS: A Study of Breast Cancer Survivorship
The PATHWAYS Study hopes to provide more objective information to help guide women as they make decisions following a breast cancer diagnosis by collecting and analyzing data about a woman's genetic background, tumor characteristics and lifestyle choices immediately after diagnosis. It also studies various genetic factors and their role in treatment and survival as well as whether certain molecular changes in the tumor may be markers for prognosis.
Learn more about the PATHWAYS study here: http://www.dor.kaiser.org/external/dorexternal/research/pathways.aspx