May 15, 2013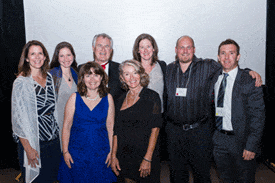 SAN RAFAEL, CA - Zero Breast Cancer, a community non-profit organization based in Marin County, honored nine individuals, organizations and businesses for their contributions to understanding breast cancer and the healing process, and for leadership in improving the community's health.
The awards were presented at the 14th Annual Honor Thy Healer program on Thursday, May 9, 2013, at the Mill Valley Community Center. Tom Scott, Director of Global Branding and Innovation at the Bill and Melinda Gates Foundation served as Honorary Chair and Keynote Speaker. Executive director Janice Barlow highlighted breast cancer and the environment research progress in the Bay Area and nationally. Two hundred attendees included business and healthcare leaders, honoree associates and prior honorees, public officials, breast cancer advocates and community members.
The 2013 Healing Professional is David Gullion, MD, a medical oncologist with Marin Specialty Care and medical director of the Center for Integrative Health and Wellness at Marin General Hospital. Dr. Gullion, who serves on the clinical faculty at UCSF, was recognized for his medical expertise and humanistic approach to the treatment of women with breast cancer.
The 2013 Hal Brown Shining Star honoree is exercise physicologist Regan Fedric, ACSM, CES, co-founder of Sunflower Wellness, a non-profit organization that promotes movement and exercise to improve the lives of those living with cancer. Ms. Fedric conducts cancer exercise programs at the Marin General Center for Integrative Health and Wellness, the Bay Club Marin, Smith Integrative oncology, Rolling Hills Club and the UCSF Comprehensive Cancer Center.
The 2013 Community Breast Cancer Research award was presented to CYGNET Study co-investigators Louise Greenspan, MD, Kaiser Permanente San Francisco; Gayle Windham, PhD, MSPH, California Department of Public Health, and Julianna Deardorff, PhD, UC Berkeley School of Public Health. This team is investigating how environmental exposures and biological and socioeconomic factors influence girls' transitions through puberty and the potential risk for breast cancer later in life. The CYGNET Study is directed through the Kaiser Permanente Division of Research in collaboration with the University of California, San Francisco and Zero Breast Cancer, with funding from the NIEHS-NCI Breast Cancer and the Environment Research Program.
The 2013 Healing Partner is clinical Health psychologist Carol Kronenwetter, PhD, a private practitioner and consultant at the California Pacific Medical Center Breast Health Center in San Francisco. Dr. Kronenwetter facilitates specialized groups for women wiht breast cancer, advocates for their optimal treatment and recovery, and guides them through survivorship.
The 2013 Francine Levien Activist honorees are Stig Westling, MBA, Jonathan Mooney, MBA and Janine Elliott, MBA, co-founders of Skip to Renew, a start-up company launced in 2009 in partnership with the Dominican University Venture Greenhouse business accelerator. Skip to Renew provides high-quality, renewable, non-toxic and biodegradable industrial lubricants made from sustainably-soucred plant and algae oils, including lubricants for bicycle chain links.
Video biographies about the honorees produced by The Big Picture Film & Video Arts, Inc. were shown during the awards presentations. These videos can be accessed on Zero Breast Cancer's YouTube channel. Photos of the event, honorees, and attendees can also be accessed on Zero Breast Cancer's Flickr account. The celebration included dinner by Insalata's and a fundraising raffle. Proceeds from the event support Zero Breast Cancer's research and education programs.
Zero Breast Cancer is a community based organization dedicated to prevention and finding the causes of breast cancer through local participation in the scientific research process. We focus on identifying environmental factors and the role they play in breast cancer at all stages of life and across genrations.
Contact Susan Schwartz at Zero Breast Cancer - This email address is being protected from spambots. You need JavaScript enabled to view it.;">This email address is being protected from spambots. You need JavaScript enabled to view it.; 415-507-1949 x 104